BUY NOW, PAY LATER.
Welcome to Feel Good Shopping.
Payments as low as $5.99/mo
No Annual Membership Fees
No Over-Limit Fees
No Fees to Pay Your Bill Online
Apply Now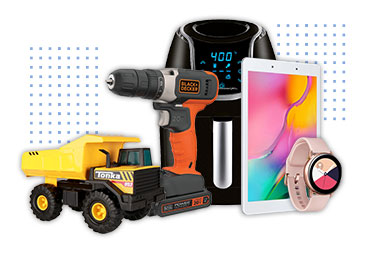 SHOP WITH CONFIDENCE!
Get pre-qualified today.
1
Fill out a short form and click "Submit" to get pre-qualified right now. Pre-qualifying will have no impact to your credit score.
2
Add all your favorite items to your shopping cart, and click Check Out.
3
Complete your order as normal with Stoneberry Credit.

Access name brands for less.
Shop over 60,000 products and get what you've been craving: jewelry, shoes, clothes and other big brands for less. You can also take advantage of name brand discount shopping on electronics, furniture, and home appliances.
Shop Now

Shop today, pay in installments.
Don't put life on hold or compromise on the things you and your family need. Stoneberry lets you enjoy online shopping with monthly payments as low as $5.99.
Apply Now
Frequently Asked Questions
BUY NOW, PAY LATER
If you've shopped online lately, you've probably come across the phrase "buy now, pay later" or "BNPL" a time or two. It's a new trend that has been gaining a lot of traction in the online shopping world, even making its way over to our little corner of the internet. So, what is buy now, pay later, and how do you know if it's a good fit for you? Online shopping financing can seem confusing at first, so we're here to help you navigate buy now, pay later with ease. Here's a brief overview of what BNPL is and how you can benefit from it when shopping our family of brands.
What Is Buy Now, Pay Later?
Buy now, pay later is a credit system that lets you pay in installments for purchases you make online, sort of like layaway but without the wait to get your product. When you buy something through a payment plan like ours, your product is shipped to you just as quickly as if you had paid for it all at once. You don't have to pay in full before you get your order, which is why buy now, pay later has become so popular lately. Payments with Stoneberry Credit® start as little as $5.99 per month*, subject to credit approval, making even larger purchases affordable, like electronics, furniture, appliances, and more. Many popular online retailers have programs like these, often with lots of fine print, annual fees, and harsh penalties if you go over your credit limit. You won't have to deal with any of these stressful extras with Stoneberry credit, which is why it's a smarter alternative to BNPL. Also, when you are approved for credit from one of our family of brands, like Stoneberry, you can use your credit to shop all of our brands, widening your selection to include apparel, cosmetics, footwear, and more!
How Do I Shop With Buy Now, Pay Later?
Signing up for buy now, pay later couldn't be easier! All you have to do is fill out our pre-qualification form. You can instantly get a credit limit, and there is no impact on your credit score when you pre-qualify. That's it! Now you can shop with confidence within your credit limit, knowing how much you can afford. Our pre-qualification form is quick and easy, so you'll be right back to shopping in no time. Click here to get started!
What Sites Let You Buy Now, Pay Later?
A lot of different websites offer different ways to pay off your purchases over time, but they're not all created equal. Stoneberry Credit is different because it provides you with a line of credit that you can use to purchase clothes, shoes, home décor, electronics, toys, makeup, and much more across our entire family of brands. You can shop all of your favorite brands using your credit and pay for all of your purchases across our brands with low monthly payments that can fit any budget. Another thing that's unique about Stoneberry Credit is the many ways you can make your monthly payments. Not only can you make payments online using your Stoneberry account, but you can also call one of our customer service representatives or mail in a payment when you receive your monthly statement. This makes it even easier to fit your monthly payments into your busy life for stress-free shopping.
How Do I Apply for Buy Now, Pay Later Credit with Stoneberry?
To sign up for our buy now, pay later credit, start by filling out our pre-qualification form. It'll ask for information like your name and address and help you register for a Stoneberry online account if you don't have one already. If you do, no problem! Sign in and we'll use the information we already have from your past orders to make filling out this form even easier. Once you submit this form, you'll find out whether you've been pre-qualified in just seconds, meaning you can start shopping on Stoneberry or any of our other credit brands like Masseys, Mason Easy Pay, and K. Jordan right away!
How Do I Know If Buy Now, Pay Later Is A Good Fit For Me?
One of the top perks of using buy now, pay later is the ability to pay for your purchases on a schedule that better fits your budget. You'll have opportunities to increase your credit limit, meaning you can finally take on those projects that never fit in your budget. Big renovations and updates, like new appliances for the kitchen or a back patio overhaul, suddenly become a lot more affordable when you can spread out the cost over several payments. Buy now, pay later also allows you to invest in long-lasting, high-quality products instead of settling for cheaper versions. You'll have access to name brands for less, including favorites such as Cuisinart, Samsung, Under Armour, and Fisher-Price, with the convenience of low monthly payments. It's shopping without the stress, what's not to love?
Can I Apply for Buy Now, Pay Later with No Credit Check?
You can find out if you are pre-qualified for Stoneberry Credit with absolutely no impact to your credit score. We're able to do this by using a soft inquiry, which does check your credit report, but has no effect at all on your credit score. It also lets us tell you right away whether you've been pre-qualified for Stoneberry Credit, so you can shop with confidence almost instantly.
How Do I Make Payments On My Purchases?
There are three convenient ways to make payments on your purchases at Stoneberry or any of our other buy now, pay later brands. If you prefer to do things online, you can pay the same way you shop, with your Stoneberry account! You can easily check your balance at any time, view your payment history, and find out when your next payment is due through this handy online portal. The second way you can pay is over the phone. If you prefer to work with an actual person when making payments, you can call our friendly customer service representatives. They'll be happy to help, as well as answer any other questions you might have. Finally, you can make payments through the mail when you receive your monthly billing statement. No matter which method you use, feel free to contact us if you have any questions or concerns; we're committed to making sure your shopping experience with us is a good one.
Shop Buy Now Pay Later Categories